Hakabakashii is drunk on soda.  

I made some drawings as well. It's unlike anything you've ever imagined your characters as!
Team 1! Ironically, Nomaru's the biggest of them all. She's a dobe because people often have a prejudice against her and she can give off some really strong negative vibes towards others. People often overlook that dobes are really intelligent and once you give them a chance, fiercely loyal.  

Rikka's a mudi, an underappreciated herding dog that can do most anything. Very smart, very loyal, very active, a jack of all trades. Why won't more people recognize its qualities?!  

Hakabakashii is not a husky like Hasuki, but an English springer spaniel, an active, friendly dog that knows how to catch prey, but isn't much of a fighter.  

Team 2! Torame the staffordshire bull terrier, a dog with a lot of potential if handled right... but sometimes they go crazy for an unknown reason...  

Yorukasa the cavalier king charles spaniel, a super soft, super sweet, gentle and kind little dog. Handle with care, because they are sensitive and easy to upset. They just want everyone to be nice.

And Shikataro is a border collie. Really intelligent and overall they're friendly. They *can* be calm... but they tend to be loud and hyper and make their presence noted.  

Team 3! Kenshi is the underappreciated labrador retriever. This dog is often considered the ideal family dog because ->labrador. It's just their reputation. But many people don't realize this is actually a very able and intelligent hunting dog with wonderful qualities.  

Houtarou the Irish setter! Enthusiastic, loyal, friendly, social! Looks cute! Wants world peace! What more similarities can you ask for?  

Tenhsi's a maremma. What's a maremma? Well, it looks like a golden retriever, fluffy and cute and all, so therefore it must also be super friendly.  

 Do I need to point out...? Nah, golden retriever, close enough. Just don't make it angry.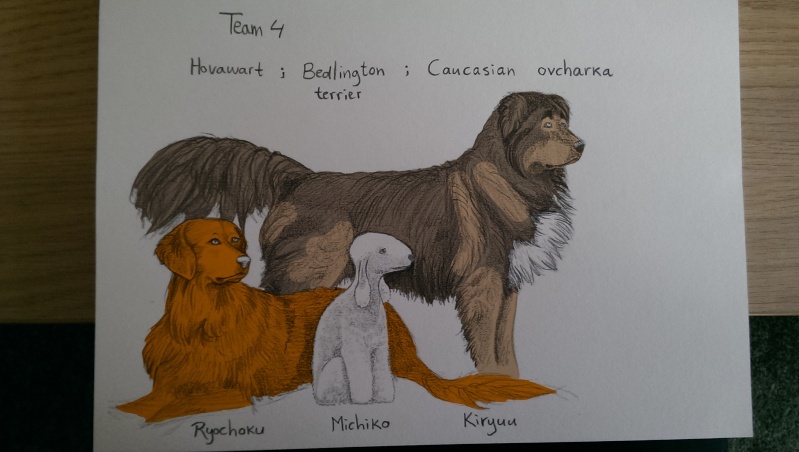 Oh look it's team 4! Ryochoku is a hovawart, an old noble's dog at court. This dog also looks like a golden retriever. Seriously, if it's somewhat big, longhaired and white/cream/gold/red in color, people think the dog is a golden... In any case, while the hovawart can be pretty mellow and lackadaisical, don't let it trick you into letting your guard down, because this is actually a guard dog.  

Kiryuu is a caucasian ovcharka. Pretty damn big, and pretty damn strong. A guardian breed pur sang. Also freakishly intelligent, but don't count on an ovcharka following commands, because it's gonna do whatever it pleases. Which is often not what you please. Not a very social dog, and it has quite a temper.  

That cute little lamb in front is Michiko, a bedlington terrier. Doesn't look that tough. Don't let its small and woolly appearance deceive you though. It's a confident, smart, fierce little thing. Quick and surefooted, with a temper to boot. You'll be surprised to know that the bedlington terrier was originally bred for dog fighting.

Team Souran! Souran himself is a tosa, a traditional Japanese breed bred for dog fighting. No nonsense, brusque, muscular and strong like a bear.
His son Mukade is a dog that looks like a tosa, but not really. He's a rhodesian ridgeback, an athletic dog with a calm temperament and the spirit of a hunter. This dog is an oddball though, because it has a so called ridge on its back where hair grows in the opposite direction. Despite this condition, the dog functions fine.  

Kazuo is an American eskimo dog. Not really American, it's actually German. Don't tell the Americans. This is a highly intelligent dog that looks really cute, but is made to withstand even the most extreme of climates. Its thick double coat keeps body heat from escaping in the cold, and traps cold air underneath in the heat. This dog is wary of strangers, can be impatient and does not like to be manhandled.  

Then there is Asura, the independent akita. This free spirit is strong and brave, and does not like to be told what to do. This dog is wary of strangers, but fiercely loyal to those it has come to care about and wants to protect. Though not bred as a fighting dog, the akita is very much game when it is challenged... and its physical prowess makes him an unlikely candidate to lose.  

Last but not least, team Kazenkou! Kazenkou herself is a beautiful extravagant Afghan hound with a lush and luxurious coat.
Her little brother Meran is an azawakh, a breed born in the desert. This dog is hardy, loyal and fierce. It has an intense dislike of strangers, but protects those he loves with his life. The azawakh is a hunter with keen eyes, nothing escapes its attention.  

Akira is a malinois, a fierce herding dog and a popular police dog. This dog is wary of strangers and loyal to those it is close to. Malinois may be quick to anger and fast to react. They are not known for their tolerant behavior.
Hina is a German shorthair pointer, not exactly a sedentary breed of dog. This dog is intelligent, quick to learn, but may be boisterous when young. They are often eccentric, but very affectionate to those they love.
Basically, I needed an excuse to practice drawing dogs. Hope you enjoyed.