Basic Character Information
Name:
Uchiha Rikka
Age:
13
Sex:
Female
Affiliation:
Konohagakure
Clan Information
Clan:
Uchiha Clan
Clan position:
One of the lowest ranking families
Merits and Flaws
Merits
Points Total: 13
- Clan Membership
(2 points), Uchiha
- Kekei Genkai
(1 point), Sharingan
- Primary Elemental Affinity
(1 point), Katon (Fire)
- Striking Looks
(2 points), Get +1 or +2 on influence with looks, depending on the situation.
- Double Jointed
(3 points), +1 to Defense. You can bend your joints much easier than a regular person and are much more flexible.
- Jack Of All Trades
(4 points), The character seems to have a natural talent for just about everything. This merit removes all penalties for any untrained actions.
Flaws
Points Total: 11
- Albinism
(3 points), The character has a genetic mutation which causes her to have little to no pigment.
A penalty during battle when the sun shines too brightly. Both when the sun shines in the eyes (and she doesn't wear sunglasses) and when the strong sun shines down on her skin.
If she goes into the, for example, desert without protection she'll get sunburned easily and be less efficient in movement (slower) and more sensitive to pain because of the sunburn. After an extended time in the strong sun without protection she takes PE or HP damage.
Direct effect: lowered perception or focus
Longterm effect: lowered speed or PE damage or HP damage
- Vice
(2 point), Play/make music. She
can
go without playing music for a day, but she will definitely not be happy about it. And people will notice it. She also pulls out some instrument or another whenever she has a few minutes of free time and gets slightly bored. If she doesn't have an instrument she'll sing, hum or whistle.
- Intolerance
(1 points), People who will in some way, shape, or form harm her music instruments can expect a fireball up their.. nether regions.
- Trauma
(2 points), Hospital. (Worst fear: medical injection needles.) Due to her parents dragging her to the hospital for the tiniest thing (one cough), getting her vaccinated and medically researched many times (even though it was completely unnecessary), she's learned to associate the hospital with unpleasantness and even pain in some instances.
- Untalented
(3 points), More like "can do pretty much everything average, but doesn't have specialities". Which matches her Jack Of All Trades merit.
Character Appearance
Normal length, lean yet relatively muscular figure (athletics and dancing) but not over the top. Very pale skin, pink/blue eyes, white hair, white eyelashes, no pigment (albino). She is usually seen wearing bright colourful clothes, her hair in different styles on different days, and some sunglasses (some are weirder than others, she's got a small collection, due to the sun hurting her eyes). Her appearance could be described as "weird" by some people. Pretty much all her clothes have in common though that she can move well in them.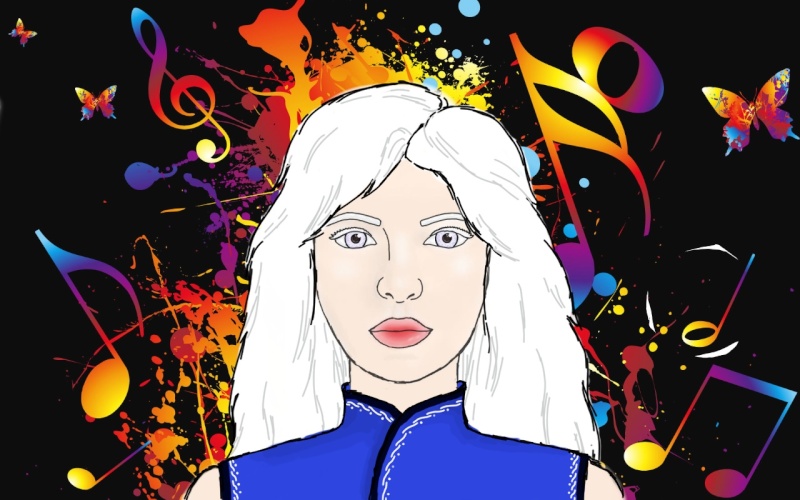 History/Background
When Uchiha Rikka was born, 10th of July 1969, she was pale. More so than normal Uchiha. Because she was such a pale baby her parents named her Rikka, which means snow. However, they got quite a shock when her first hair started to grow. Instead of the usual jet black Uchiha hair to go with her fair complexion, her hair was white. And suddenly her name didn't only apply to her skin anymore, but also to her snow white hair.
Her father demanded a paternity test to make sure his wife hadn't cheated on him. Their marriage was a loving one, and he couldn't imagine her cheating on him, but he could see no other option and he had to know for sure. The test showed that Rikka was the true baby of her parents. Rikka was an albino. Her parents' loving marriage continued on in the same loving way, despite this tension because of Rikka's birth. Frankly, they had been trying for a while to get a baby, so they were just overjoyed with their little baby girl.
However, her parents were part of the lower branches of the Uchiha clan and felt great respect and a slight fear for the main house. What would they say of their white haired child? The Uchiha were a proud clan and their telltale light complexion, dark hair and dark eyes were the standard. Anything that deviated might be considered "not Uchiha". Luckily the clan leaders accepted Rikka in the clan without any problems. The paternity test and the fact that she came out of her mother's womb showed that she was a real Uchiha. Nevertheless, her parents didn't want to have another child, for fear of it having white hair as well. So Rikka stayed an only child.
Her childhood was a happy one. Her parents were so very fond of her: showering her with love and praise for everything she did. They were always so proud of their little girl. Partially because they saw her as a fragile, shy little child. She had white hair, she was
different
, surely there must be something wrong with her somewhere, right? She must be fragile and weak. Yes, her shy demeanour around others must be proof of this. The reason she was happy, active and full of life around her parents must be because they were there to protect her.
But Rikka wasn't fragile in any way. And the reason she was shy around others was because others treated her differently. At best they were surprised that she was an Uchiha and almost didn't believe her. At worst they outright mocked her for her appearance. Calling her names and saying she was not, nor would she ever be, a
true
Uchiha. That she was weak and would probably never learn to master the Great Fireball Technique (Goukakyuu), let alone achieve the sharingan. After which they would burst out into roaring laughter and walk away. This would make any child shy around other people.
(Names include Snowwhite, and also asking where her dwarves are and throwing apples at her, and the more used Konpaku, which means ghost.)
At age 7 Rikka's parents tried to get her to be less shy. They told Rikka she was allowed to get a hobby, anything she liked, as long as it wasn't something dangerous like horseback riding (where she could break her fragile bones!) or swimming (she could drown with her weak muscled arms!) or anything like that. At the time she had been watching a play on the television. She pointed at the television and announced to her parents that she wanted to learn how to play theatre. So her parents took her to theatre school.
There Rikka found out that she had a creative streak. And what a streak it was! Rikka shined on stage. Both figuratively and literally due to the lights bouncing off her white form. In theatre school she found out she loved singing and dancing as well. She also asked her parents if she could start playing the piano as well. Glad to see their little girl so happy, her parents bought her a piano and arranged for a private teacher to come to their home. It didn't stop with playing theatre, singing, dancing and playing the piano. Soon Rikka took up the guitar, violin and flute as well. Now, at age 13 she plays the piano, guitar, bass guitar, a bit of banjo and mandolin (which aren't that far off once you know how to play the guitar), violin, various flutes, and some other instruments (like more traditional ones). She even has a djembe in her room for when she only needs a beat. However, her favourite instruments are the violin and the piano. Her biggest problem with the piano is that it doesn't fit quite as easily on your back as a violin does.
Thanks to theatre, dancing and music, Rikka has gained a lot of confidence. And she even pulls strength from the fact that she is unique. She is the only Uchiha with white hair and pink eyes, and she is
proud
of that. Her parents see that she isn't shy around other people anymore, but they don't quite grasp the extent of Rikka's confidence and inner strength. Even though they try, they still catch themselves wanting to protect her and treating her as more fragile than she actually is. And they are still wary of how much Rikka stands out, mainly because of her looks, but also because of her exuberant behaviour. They often try to tell her to stand out as little as possible. If people didn't notice her, they couldn't treat her badly or hurt her either. They are very proud of her, but don't see how strong she is, they still see the shy little white haired girl. And where her parents are very careful of not attracting unwanted attention (mainly from the main branch) Rikka is a creative spirit who can't be held back!
History/Background
Rikka does not mind being one of the least important branches in the Uchiha clan
at all
. She likes it this way. No pressure to perform, no people expecting unreasonable things of you, not too many responsibilities for a child and being able to do your thing at your own speed. She doubts she would have been able or allowed to do all the things she does if she would have been clan heir or something like that.
She often has songs playing in her head, and they have to be let out! She hums, sings, dances and taps her feet a lot when she does her daily things. She also often carries at least one instrument. (Like a tiny whistle or a mouth organ.) If she doesn't have an instrument with her, she'll just whistle with her mouth.
Rikka can't imagine a life without music. If she's happy she sings and dances and plays instruments. If she is sad, she plays instruments and sings. If she is angry, she shreds away on her electric guitar or electric violin. By processing her emotions through her creativity, Rikka is a very emotionally stable and overall happy person. Playing an instrument is like meditating. Which gives her an inner calm and makes her just plain enjoy life in general. But when her mood does take a turn for the worse, it does so explosively. She doesn't try to push away her emotions, but lets them out, completely feels them, so she can process them. This can cause her to lay waste to a training field, and afterwards walking away with a smile. Because she doesn't push away negative emotions and doesn't let them simmer around in her mind.
Besides being creative, musical and overall a happy person, Rikka is also a very passionate person. She has a very clear bond with fire, like many Uchiha have. She is flames herself! Everything she does, she does with passion. She commits to it 100%. This is mostly seen in her music, but goes for all other things as well. Everything from training, to cleaning her room, to cooking, to doing homework, to being friends with someone. Because she always does everything with passion, this means that when she is tired, she is
dead
tired. She will go to bed at night and fall asleep within seconds, sleep heavily throughout the entire night, and rise early with the sun the next morning.
Because of music, theatre, and dancing being such an important part in her life, she implements this in her fighting style as well. When she moves, it's clear that she is a dancer at heart. As for being a kunoichi, Rikka takes that responsibility serious. She commits to it, like she does to all the other things she does as well. She is an Uchiha, and as such she has been raised to become a shinobi. Being a kunoichi, or soldier, is her duty. It is her job. She has to protect the village and the people in it, she has to do as her clan leaders and the Hokage say. And she does so, because she believes the leaders of the people to want the best for the people, which is peace. And that is all she wants, really, for people to live happily in peace.
Main Stats
                        LvL   cost
Stamina              3       6
Intelligence          5      20
Strength              3       6
Speed                 3       6
Seal Knowledge    2       2
NinJutsu 4 12
Taijutsu 3 6
Genjutsu 3 6
Total: 65
Skills
Social: EXP: Rank: +/-
Animal Ken 2 E 1
Empathy 7 D 2
Expression 17 C 3
Intimidtion 2 E 1
Persuasion 7 D 2
Socialize 7 D 2
Subterfuge 2 E 1
Shinobi Cds 2 E 1
Sum juts 0 0
Genjutsu 17 C 3
Sen Jutsu 0 0
Impersontn 17 C 3
Mental: EXP: Rank: +/-:
Academics 7 D 2
Politics 7 D 2
Science 0 0
Medicine 0 0
Chakra Co 7 D 2
Craft   0 0
Computers 7 D 2
Medical 0 0
Ninjutsu 17 C 3
Katon 17 C 3
Investigtion 7 D 2
Sealing 2 E 1
Genetics 0 0
Chemistry 0 0
Barrier 2 E 1
Time-space 0 0
Blacksmith 0 0
Deduction 7 D 2
Physical: EXP: Rank: +/-:
Athletics 17 C 3
Brawl        2 E 1
Ride          0 0
Vehicle 2 E 1
Buki   17 C 3
Stealth 17 C 3
Survival 2 E 1
Larceny 2 E 1
Shuriken 7 D 2
Explosives 2 E 1
Traps 2 E 1
Tracking 7 D 2
Sword 2 E 1
Starting jutsu
Katon:
D Rank:
Kasumi Enbu no Jutsu - Mist Waltz Technique
C Rank:
Goukakyuu no Jutsu - Great Fireball Technique
Ninjutsu:
E Rank:
Ayatsuito no Jutsu - String Reeling Technique
Nawanuke no Jutsu - Escaping Skill
Bunshin no Jutsu - Clone Technique
Henge no Jutsu - Transformation Technique
Kawarimi no Jutsu - Change of Body Stance Technique
(I don't know how to make dem fancy tables. :(Any admin willing to help me out, feel free to do so.)