Puppets
The Special abbility and skill of the Chikamatsu Clan lie in their abbility to forge the ultimate Shinobi weapons, puppets that fight like Shinobi but fear nor death nor pain and are filled with hidden weapons and traps.
Their initiation ritual might make them unable to use some Shinobi abbilities but
the Shikamatsu make up for that by replicating those abbilities with their puppets.
A strong Shikamatsu is therefore litteraly like a one man army.
Puppet Creation

Step 1:
Chose Base Parts for the puppet from the list below or customly create your own and get
them approved. Then decide on how and where these parts will be connected together.
Step 2:
Chose Weapons and Traps from the list below or customly create your own and get them
approved. Then decide on how and where these traps/weapons will be placed. (remember to keep to
the right amount of weapon/trap spaces your base parts can contain. An 'Advanced Solid Blaster' for
example will not be placable on a 'Basic Single Slot Part' as it takes up 2 trap/weapon spaces and
the 'Basic Single Slot Part' can only carry one of those.)
Step 3:
Make a spread sheet of your puppet showing the AC per part (any program that allows you to move around text boxes will do so long as you're able to send and/or upload the file to the admins). Damage will be dealt to parts individually (or in some cases across several parts). If a part breaks it will not be usable until it is repaired.
(This does not apply to human puppets)
Step 4:
make a note in the spread sheet of what weapons and traps are positioned where in the puppet.
Step 5:
Post your puppet in the Custom Weapon Section to get it approved. There may be a limit to
how many puppets you can carry on you or how many scrolls you can carry with puppets in them.
But there is no limit to the amount of puppets you can have or have stored away.
Here is the most well know puppet amongst Naruto fans; Karasu explained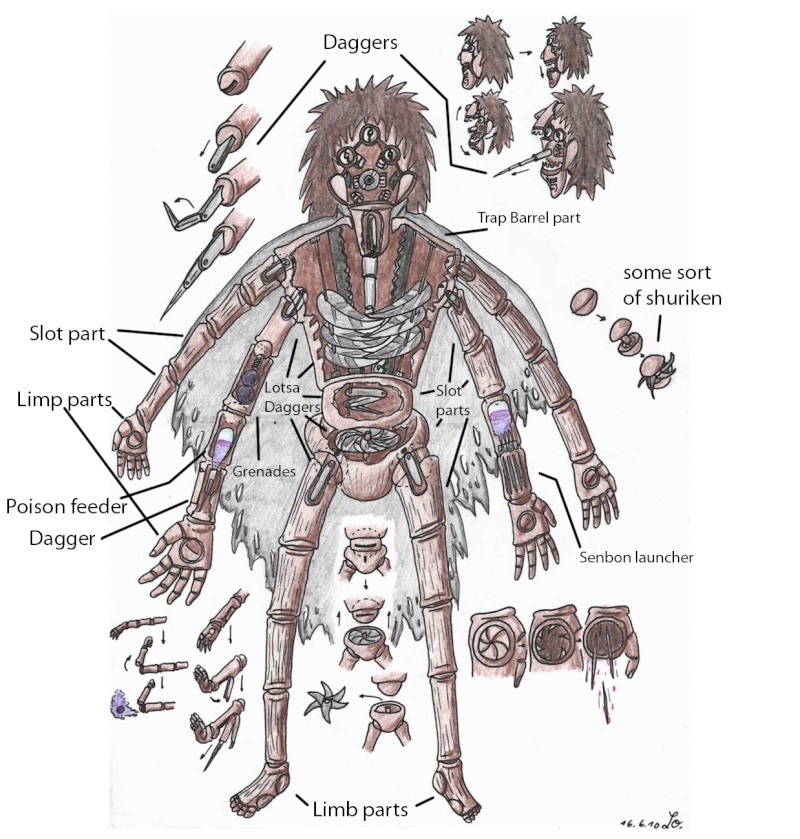 Puppet Parts, Weapons and Traps:
You can download a list of parts
HERE!