Name
: Hyuuga Sumiyaka
Age
: 12
Sex
: MALE
Affiliation
: Konoha
Clan/Family
: Huuga
Merits
:
- Clan Membership (2pt)
- Kekei Genkai (1pt)
- Main House (1pt)
- Primary Elemental Affinity (1pt)
- Hardcore (2pt) >+30cp Physical skills
- Combat Ready Mind (1pt)
Total points: 8pt. > Need 6 pt of flaws
Flaws
:
- Intolerance (1pt) Selfish People
- Phobia (1pt) Spiders
- Vice (2pt) Leather
- Social Inept (2pt)> -30cp Social skills
Elemental Affinity
: Raiton,
General Personality Outline
: Calm, Confident, Strong presence, Serious, Can appreciate humor.
Character Background
: Sumiyaka was born in the main ruling family of the Hyuuga Clan and has endured quite a strict upbringing. Pushed by his family's ways of close combat and specialization in hand to hand combat. He didn't have much in the way of fatherly or motherly love. Rather than love he received respect for his feats and accomplishments. Neither did he have much in the way of friends, rather fellow young family members or fellow youngsters to train with while not bonding with them. Still he feels he missed out on something, despite the fact that he is quite accomplished in hand to hand combat, as was expected of him. His hopes for social contact and more accomplishments are still high, even though he is not the most social person around.
Appearance
: Hyuuga Sumiyaka has short black boyish hair and a smooth face. Not strange for a twelve year old boy of course. He has a well-developed body for his age as a result for mainly training in Taijutsu, causing him to look athletic. His eyes, white, are surrounded by darker skin, accentuating them. Not that he chooses to have such creepy eyes, he just has them. He loves leather, really LOVES it. It's a real vice for him. He loves wearing leather clothes, the feel of it and the way it stretches and looks. It can't be called a real fetish, on account of him being so young and not even understanding what the hell a fetish is. Beside looking like a little creepy leather boy he has a friendly and honest face and a gentle laughter, if he laughs that is.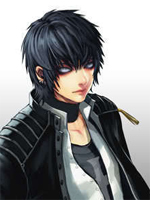 Mental Skills and Ranks: 80pt
-Academics: C
-Chakra Control: C
-Computers: E
-Ninjutsu: C
-Raiton Jutsu: C >Specialization> Attack Type
-Investigation: D
-Politics: E
Physical Skills and Ranks: 110pt
-Athletics: C
-Brawl: A >Specialization> Juuken Ryuu Fighting style
-Buki Jutsu: E
-Stealth: D
-Survival: D
-Shuriken Jutsu: D
-Explosives: E
Social Skills and Ranks: 50pt
-Empathy: D
-Intimidation: C >Specialization> Physical Intimidation
-Shinobi Codes: D
-Persuasion: D
-Subterfuge: D
-Socialize: E
-Animal Ken: E
Starting Jutsu: 25pt
- Juuken Ryuu - Gentle Fist Style – Strike> D rank
- Juuken Ryuu - Gentle Fist Style – Slam> D rank
- Aoi Chakra Kaihou lvl.1: Aoi Shushou - Blue Chakra Release lvl.1: Blue Palm> D rank
- Jibashiri - Earth Flash> D rank
- Kawarimi no Jutsu - Change of Body Stance Technique> E rank
- Bunshin no Jutsu - Clone Technique> E rank
Stats: 65pt
-Ninjitsu LVL 3
-Taijutsu LVL 5
-Genjitsu LVL 2
-Seal Knowledge LVL 3
-Stamina LVL 3
-Strength LVL 3
-Speed LVL 4
-Intelligence LVL 3